De Creality Ender 3 V2 3D-printer nog niet zo voordelig geweest. Kwam hem tegen in mijn zoektocht.
Goedkoopste elders: €224!!
Wordt verzonden uit Duitsland dus in dit geval geen BTW en douaneregels en snel thuis :-)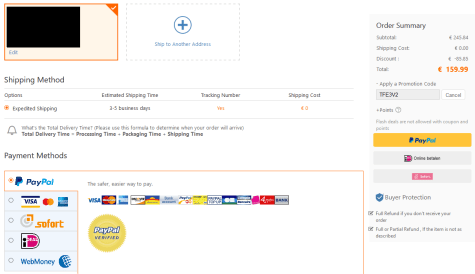 Features:
Upgraded mainboard: CREALITY self-developed silent mainboard, with stronger anti-interference ability and silent printing, the running sound of Creality Ender-3 V2 3D Printer is always guaranteed to be below 50dB.
New toolbox function: A plastic container for storing tools is added at the bottom, which can quickly organize tools. All 3D printing tools provided by Ender-3 V2 can be put into this plastic container.
The new integrated injection molding tightener: The new XY axis tightener, it can quickly adjust the belt tightness, convenient and fast.
Newly added rotary knob: The extruder adds a manual rotary button, which is more convenient for feeding filaments.
New UI display: New UI interface, humanized interactive design, simple operation, and good user experience.
New type of nozzle: Using brass nozzle with good heat resistance, the discharged material is uniform and detailed, realizing high-precision printing.
Creality Ender-3 V2 3D Printer innovatively uses V-shaped pulleys: Smooth movement, low noise and wear resistance, and long service life.
Carbon crystal silicon glass platform: Strong adhesion, print the model without warping, models can be taken by hand quickly, easy to operate.
Excellent heating plate: The heating plate heats up evenly, and the temperature rises in 5 minutes quickly.
Well-known brand power supply: It can adapt to different voltage environments of 115V/230V.
Resume Printing after power-off: Creality Ender-3 V2 3D Printer has intelligent induction, configure restart power, continue to print, doesn't affect the printing effect.
Specifications:
Model: Ender-3 V2
Plug: EU
Power Input: 110/240V
Material: Metal
Molding Technology: FDM
Print Size: 220*220*250mm
Layer Thickness: 0.1-0.4mm
Filament: PLA/TPU/PETG
Supported OS: For MAC/WindowsXP/7/8/10
Slicer Software: Simplify3d/Cura
Printing Precision: ±0.1mm
Hotbed Temperature: ≤100°
Filament Diameter: 1.75mm
Printing Method: Online or TF card offline printing
Machine Size: 47.5 * 47.0 * 62.0cm / 18.7 * 18.5 * 24.4in
Product Weight: 7.8kg / 17.2lbs
Package Size: 57.0 * 38.0 * 20.5cm / 22.4 * 15.0 * 8.1in
Package Weight: 9.6kg / 21.2lbs